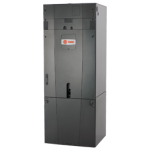 Reliability
The all-aluminum coil found in this new line of air handlers is exponentially more durable than standard copper coils, which are susceptible to formicary corrosion. This ensures families stay comfortable indoors all year long, no matter what the weather outside.
Double-walled construction
The double-walled cabinet eliminates the need for exposed insulation and helps prevent energy loss with the use of airtight plugs instead of conventional knockouts. This reduces the unit's carbon footprint and provides a cleaner environment.
Quiet comfort
Thanks to the exclusive Trane Vortica™ blower, the new Hyperion™ air handler provides homeowners with reliable, ultra-quiet operation, so they can hear each other instead of the heating and cooling system.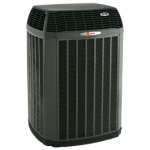 Comfort-R™ innovation
When matched with a variable speed indoor unit from Trane, the XL20i has another special feature. Its a method of enhancing airflow that we call Comfort-R™ and it gives you greater humidity control in cooling. This is accomplished by running the fan at a slower speed during start-up. Comfort-R™ also provides warmer air during heating start-up. These managed cycles reduce temperature variances for the optimum in home comfort.
Efficient performance
The XL20i is among the industry's most efficient heat pumps available, with a rating up to 19.00 SEER and HSPF up to 9.0. The XL20i has two compressors: one for milder weather and a second larger compressor for those extremely hot days. It's like having two units in one.
Durable, quiet and economical
Increased efficiency may substantially lower your home cooling costs. Its multi-stage fan motor adjusts speed to quietly provide maximum comfort, and materials for all components are tested again and again for long-lasting performance and durability.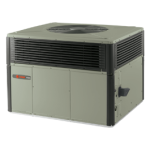 Efficient performance
The Trane XL14c offers up to 14.25 SEER and 80% AFUE and is Energy Star qualified
Year-round durability
Exclusive components like a Spine Fin™ coil, Weather Beater™ top and the variable-speed Vortica™ blower motor with Comfort-R™ will deliver the sustained performance you expect year after year.

Quiet operation
Ultra-quiet operation delivers comfort without disrupting your home environment.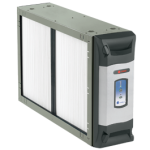 Highest efficiency
Standard air cleaners have filters that are very dense, so they stop the dust by trapping it in a slightly porous filter. The fewer the pores the more dust it can trap. However, this not only stops the dust and dirt, but it also stops the air from moving as well. So you may not be as comfortable, and less air is cleaned efficiently. This is called pressure drop. The revolutionary Trane CleanEffects™ air filtration system has the lowest pressure drop with the highest efficiency possible.
Small particles, large effects
Particles like dust, smoke and bacteria are often .3 microns or less. At that size, allergens can get deep into your lungs because they aren't filtered well by your nose and throat. An effective whole-house air cleaner, such as Trane CleanEffects™, can reduce the presence of potential asthma and allergy attack triggers in your home, like dust, pollen, pet hair and dander, dust mites, mildew, lint, fungus, most tobacco smoke, cooking grease, and even bacteria.
Verified by Harvard experts
Trane CleanEffects has been performance-tested by LMS Technologies and Environmental Health & Engineering, Inc. (EH&E), with the results verified by professors from the Harvard School of Public Health, so you know you are getting an air filtration system like no other.